Wood Boilers from Tarm Biomass
Tarm Biomass imports and distributes Fröling wood boilers, wood pellet boilers, and commercial wood chip boilers. We also represent several lines of accessory products including valves and controllers from LK Armatur. Tarm Biomass also stocks parts for HS-Tarm boilers that have been sold in North America since 1974 and Effecta wood boilers.
At Tarm Biomass we are wood burners at heart, focusing on selling appliances that burn wood fuels and accessories that support those installations. The equipment lines we sell provide our customers with energy independence, enhance rural economic strength by keeping fuel dollars local and encourage forest stewardship by providing uses for low-grade timber.
We know that what we do is only sustainable if our products burn cleanly and operate efficiently, cost little to operate, and exceed our customer's expectations. Our team encourages a professional installation by trained dealers because we know that quality starts with the equipment and ends with the experience. Like you, we are Feeling Good About Wood.
As of December 2020, installations of wood-fueled boilers and stoves for home heating with an efficiency of 75% or better qualify for a 26% federal tax credit called the Investment Tax Credit or ITC. Between the tax credit and rebates combining for savings up to $16,000, pellet boiler installation costs are now very competitive with installation costs for oil or gas boilers.

Outdoor Wood Boilers Compared to Indoor Wood Gasification Boilers

Tarm Biomass sells indoor wood boilers. Some people call them a wood furnace. Indoor boilers can be located in detached buildings outside of the primary heated space, but they are not weatherized like outdoor boilers or outdoor wood furnaces. Indoor boilers generally provide better heating performance, as heat losses from the appliance and pipes go to the home rather than outdoors. Customers who have switched from using outdoor boilers to indoor gasification boilers have reported reducing wood consumption by half or more. For a more detailed comparison, visit our resource page. Due to problems with smoke from outdoor boilers and outdoor wood furnaces, they are banned in many areas where indoor gasification boilers remain legal. New York pays a cash bounty when outdoor boilers are replaced by indoor gasification boilers. For more information about these programs, click here.
A Wood Pellet Boiler Success Story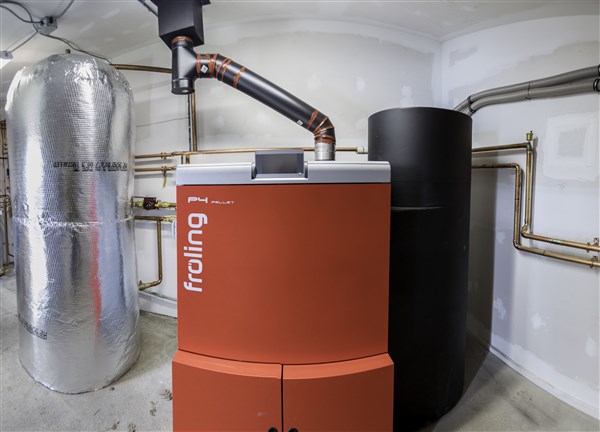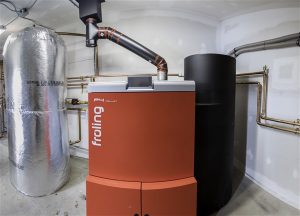 A busy campground makes the switch!
Israel River Campground in Jefferson, NH has been burning over 12 cords of wood and 1,400 gallons of oil per season for 10 years in an HS-Tarm Excel multi-fuel wood gasification boiler. The almost 7,000 square foot main building, which houses the camp store, bathrooms, laundry facilities, recreation room, and owner's living quarters is a large demand for the Excel wood boiler, which is rated at 140,000 Btu/hr. with wood and 160,000 Btu/hr. with oil.
After consulting with Tarm Biomass about the best path forward, the owner decided to hire Tarm to install a Fröling P4 48/60 200,000 Btu/hr. automatic wood pellet boiler. A new 10' X 20' boiler room was built on the backside of the building to house the new wood pellet boiler, 400-gallon Tarm Biomass thermal storage tank, Turbomax 23 indirect water heater, new heating manifolds, and wall-hung propane boiler. Outside, a six-ton silo was added to hold bulk wood pellet fuel.
Commercial Wood Chips - The Fröling Turbomat 500 Wood Chip or Pellet Boiler
The TM 500 is a 1.7 MM Btu/hr. biomass boiler is capable of burning wood chips up to 45% moisture content or wood pellets. The boiler weighs over 18,000 pounds, in large part due to its heavily bricked firebox, which is necessary for wetter wood chips. The TM 500 uses a unique vertical heat exchanger that separates and drops out ash rather than allowing for ash to sit on horizontal heat exchanger surfaces. The TM 500 is designed to run 24 hours per day with no shutdowns for cleaning or re-fueling. The special alloy walking grate system needs no hoeing or scraping. The new TM 500 replaces another wood pellet boiler installed at Peoples Academy in 1982. More on the project here.