Precise Temperature Layering for Maximum Energy Yield
The Fröling 119 gallon layered tank is similar to the Energy Tank but without the coil. It can be used on its own as a thermal buffer tank or in combination with an Energy Tank or another layered tank. It is perfect for smaller pellet boiler installations or other heat sources such as an oil or gas boiler to help reduce burner starts, prolong boiler life, and improve emissions.
Fröling Layered Tank Features

• One Size 119 Gallon Carbon Steel Tank
• Removable Insulation Results in Losses Less Than ⅓° Fahrenheit per Hour
• Stratification Baffle Enhances the Effectiveness of Stored Heat
• Strategically Sized and Located Tappings
• Sensor Bar Holds Many Sensors at Various Positions
• 5 Year Warranty - Made by Fröling

New Neopor and Fleece Insulation
The new Froling tank insulation consists of 80 mm Neopor and 20 mm of fleece, resulting in a total insulation thickness of 100 mm (four inches). Neopor® is the latest version of the insulating material Styropor®. The foam polystyrene contains graphite particles which disperse the thermal radiation and thus reduce heat loss. It performs up to 20 percent more effectively than conventional insulation.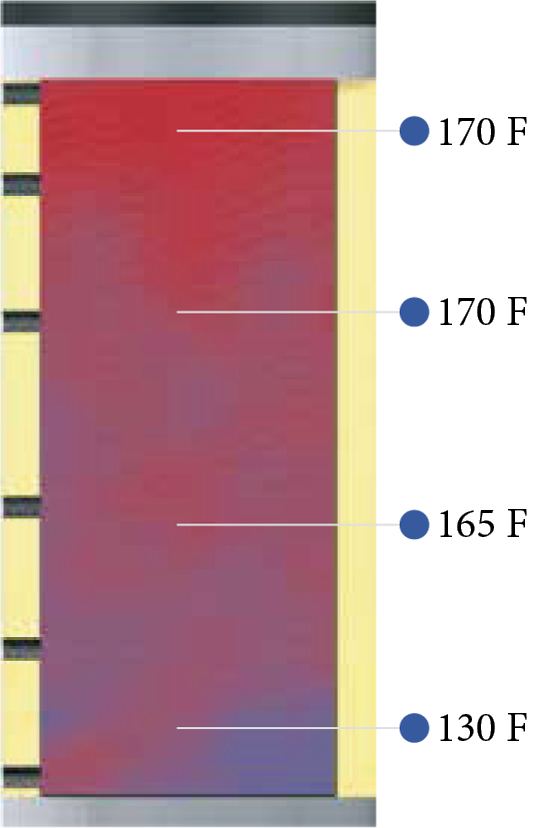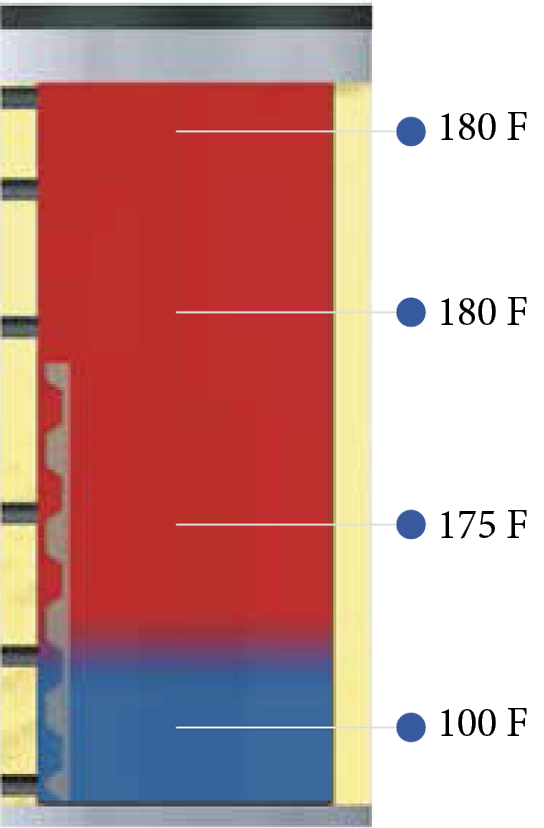 Exact Temperature Layering in the Tank
Precise temperature layering in the tank is crucial for optimizing energy storage, by ensuring that as much energy as possible can be reused. All Froling layered tanks feature a special stratification baffle developed for this purpose.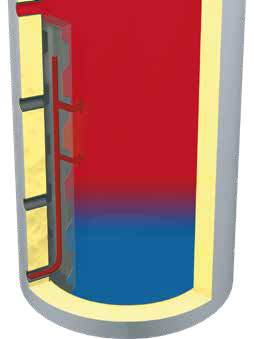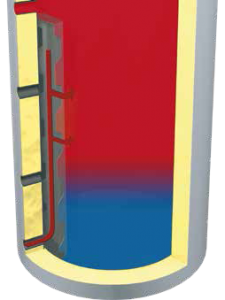 How it Works
Incoming return water moves up through the stratification baffle and is then stored in the area where the water has a similar temperature. A highly defined thermocline is created separating cold from hot water.  This maximizes the portion of the tank with the hottest water, guarantying maximum energy yield and the longest possible boiler run and off cycles.  A mixed temperature tank may not perform well in heating systems demanding supply temperatures above 160 F.
Fröling Layered Tank With and Without Stratification Baffle
Without Stratification Baffle
Diluted temperatures decrease the energy storage capacity of the tank.
With Stratification Baffle
Actual thermal imaging demonstrates the effectiveness of the stratification baffle. Temperature is strictly separated between hot and cold allowing the boiler to remain off for longer periods. Heat output remains at maximum until energy is completely depleted.
Learn More - Downloadable Brochures
Discover Green Innovation
Changing the Way we Stay Warm

Claim your energy independence and start saving. Contact us to learn more.