Wood Boiler Heating with an Indoor Wood Boiler
Fröling Indoor Wood Boilers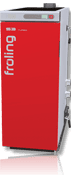 Wood furnace heating with an indoor wood boiler can be a practical, enjoyable way to heat your home. Heating a home with the Fröling S3 Turbo indoor wood boiler is the most efficient way to capture heat energy from firewood. With features like the easy-start door and external heat exchange cleaning. The Fröling S3 Turbo has Lambda-controlled combustion, which ensures a clean efficient burn. All boilers are safety tested and listed. If you are replacing an outdoor wood boiler, some states like New York pay cash bounties when outdoor cordwood boilers are replaced with indoor wood gasification boilers.  For more information about these programs, click here.

Firewood
Fuel for the Indoor Wood Boiler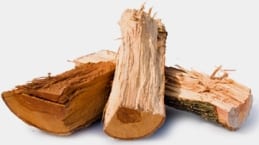 Wood is the most widely available and least expensive biomass fuel available. Burning firewood produced on one's own land has the lowest carbon impact of all forms of wood-burning and therefore can be considered the most sustainable form of wood burning.  Boiler owners who produce their own firewood as a byproduct of managing their woodlots will also realize the greatest savings and cross benefits.  Firewood is normally sold in units called cords. A cord of wood is a neat stack measuring four feet wide by four feet high and eight feet long. The heat content of a cord will vary depending on the species of wood. A cord of mixed softwood will have a heat value of 17 or 18 million BTU and a cord of mixed hardwood will have a heat value of 20 to 29 million BTU. By way of comparison, a gallon of No. 2 fuel oil has a heat value of 140,000 BTU per gallon, and propane has 93,000 BTU per gallon. Please use our fuel cost comparison tool to calculate the relative fuel costs in your area.