Indoor Wood Pellet Boilers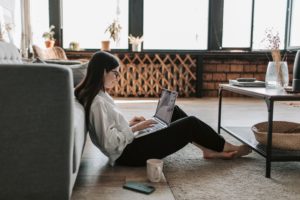 As a homeowner or building manager, you want what is best for your budget and the environment. With fluctuating oil prices and carbon emission concerns, many homeowners and commercial business owners are searching for new ways to heat. Wood pellet boiler heating systems are sustainable alternatives perfect for varying budgets and lifestyles. 
Tarm Biomass can help find the best pellet boiler for just about any application. Whether you want to replace a stove or an outdoor boiler with an indoor model or switch to renewable fuels, our products and services will help you make the transition. Find out more about wood pellet-fired boilers and how we can help you install and use natural heat.
Pellet Boiler System: A Summary
Pellet boilers use naturally sourced wood waste to replace traditional oil and gas models. Biomass materials include fuels like wood pellets, chips, and logs. A pellet boiler is an efficient and sustainable investment for practically any heating application.
Common questions we receive about wood pellet home heating systems include:
What is Pellet Central Heating?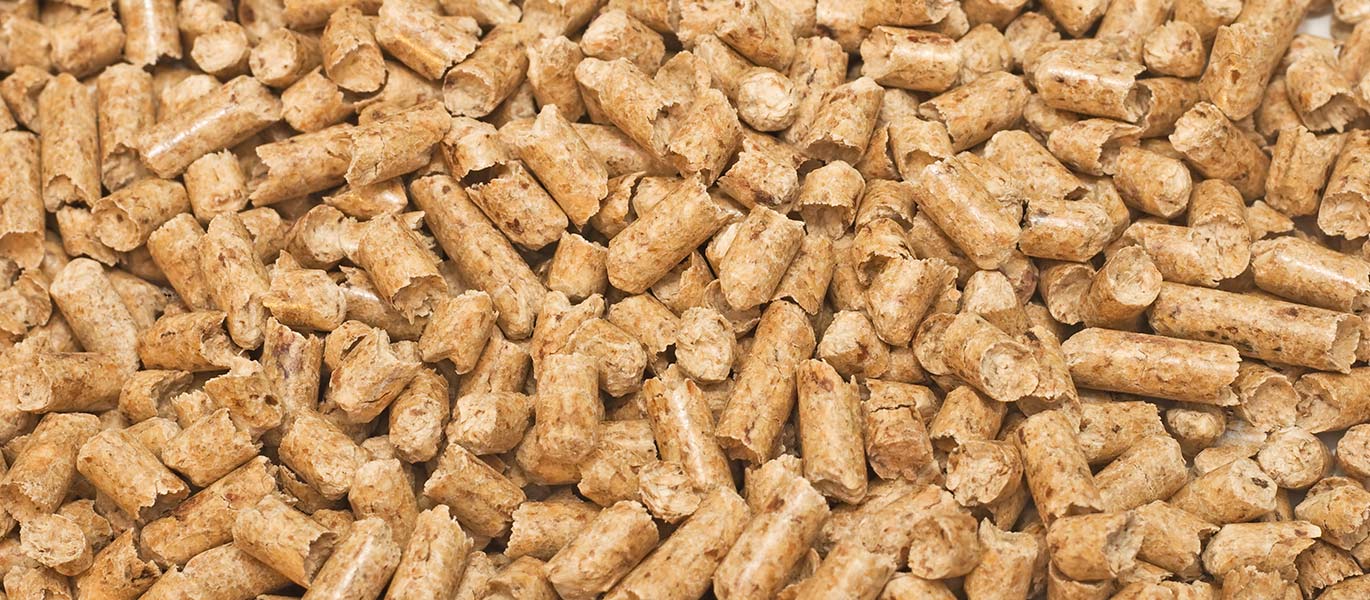 Pellet central heating is the process of burning wood pellets inside a pellet boiler or pellet furnace and transferring that heat to your building's air and water. Pellets are pure, compressed wood scraps with zero additives. Modern pellet boilers respond to thermostats just like other boilers and furnaces.
Pellet-fired hydronic heaters are available as outdoor and indoor models. At Tarm Biomass, we sell convenient indoor models that require lower maintenance than outdoor models. It is possible to replace your current pellet furnace or add a pellet boiler for a primary source of heat while retaining a backup source.
How Does a Wood Pellet Boiler Work?
A pellet boiler system consists of a few main components - the pellet storage area/container, the pellet boiler, and often, a buffer tank to provide consistent heat output. Each model will vary in size, but the overall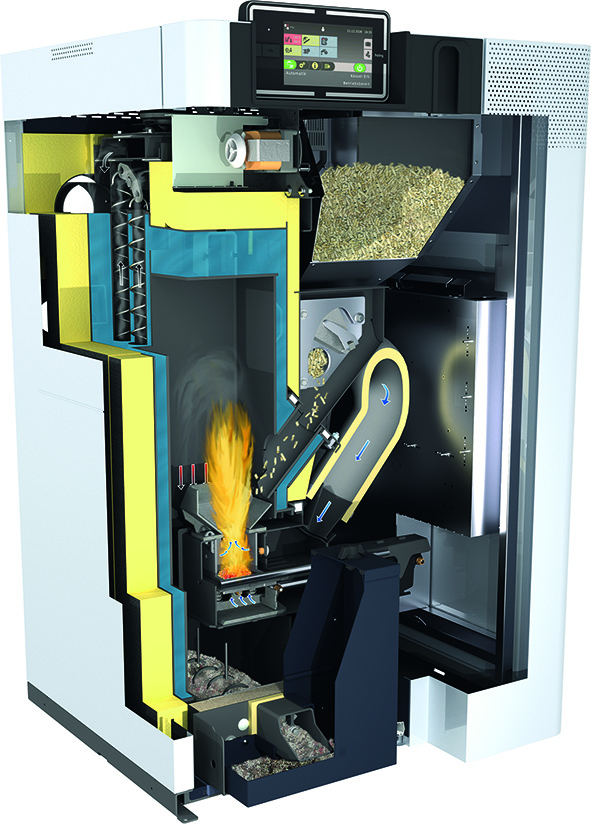 operating mechanism remains similar.
The pellets enter the combustion chamber automatically and are ignited with an electric igniter. The pellets burn and create heat, which is pulled through heat exchange tubes to heat the water. When no more heat is needed, the boilers modulate and then shut off and de-ash automatically. 
Fröling pellet boilers have an automatic ash collector and cleaning system to eliminate regular hand cleaning. They are well insulated to help keep heat exactly where it is wanted.
Can a Pellet Boiler Heat a Whole Building?
It is common to heat a whole house or commercial space with a pellet boiler. Wood pellets are more economical than a traditional propane or oil furnace. Modern pellet boilers have automated features so you can set a thermostat and forget it. A wood pellet boiler is a simple and effective replacement for any traditional furnace or boiler.
Why Is a Wood Pellet Boiler Not a Pellet Stove?
Though boilers and stoves may seem like similar appliances, these terms are not interchangeable. Boilers are fundamentally different than stoves by producing heat from wood, transferring it into the water, and pushing it into the building's central heating supply, where it can then heat water for taps, showers, and various forms of radiators for space heat.
Instead of heating entire facilities, pellet stoves typically only heat the air in certain rooms, via blown hot air and some radiant heating.
Why Is a Wood Pellet Boiler Not a Wood Pellet Furnace?
Pellet boilers also differ from pellet furnaces. Boilers heat facilities using hot water or steam, while furnaces deliver heat using warm air. When boilers heat the water, they transport it to baseboard radiators, cast iron radiators, and radiant flooring systems through a pump. Wood pellet boilers can also use exchangers to heat air.  For this reason, wood pellet boilers can replace wood pellet furnaces, but wood pellet furnaces cannot replace wood pellet boilers. 
Wood furnaces use a blower to channel heated air through the building's ducts to generate high ambient temperatures.
What to Consider With Pellet Central Heating Systems
When choosing a pellet-fired central heating system for your commercial or residential application, it is important to select the right model for your needs. Consider the following factors:
Adequate space is required for fuel storage, the boiler, and the buffer tank. Our pellet boilers are compact and usually fit in the space of the old boiler or furnace. We can talk you through sizing options to choose the best fit for your application.
Depending on your heating requirements, a larger model or multiple boilers may be a good choice. Multiple boilers can operate together as one seamless system. Most homes only need one boiler, but larger commercial spaces may require multiple boilers.
The Environmental Protection Agency (EPA) has specific wood-burning boiler standards, including regulations for wood pellet hydronic heaters. All modern wood-burning appliances must comply with these standards for clean air. We recommend purchasing your pellet boiler from a trusted company that can help you comply with regulations and provide service and support for many years.
Fröling pellet boilers require minimal hand cleaning since the burners come with automatic cleaning systems. At Tarm Biomass, we help you with after-purchase installation, usage, and maintenance. You always know where to go for help, whether you purchased from one of our trained dealers or directly from us.
Wood Pellet Heating With Fröling Indoor Wood Pellet Boilers
If you're interested in providing wood-based heating for your home, business, or institution, explore our wood pellet heating systems below.
Get Stoked to Opt-Out of Oil With One-Touch Warmth With a Pellet Boiler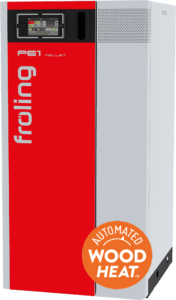 Pellet boiler heating is an efficient and easy way to heat a home or business. The Fröling PE1 wood pellet boiler is the perfect boiler to heat a home or smaller business with heating requirements between 68,000 to 120,000 BTU/hr. The Fröling PE1 is compact and quiet, with easy-to-use features and an attractive price. 
For larger pellet boiler heating applications, including larger homes and commercial and institutional applications, Tarm Biomass offers the larger Fröling P4 wood pellet boilers, the Fröling T4 Wood Pellet, and Wood Chip Boiler and the Fröling Turbomat boiler. These boilers can handle loads from 160,000 BTU/hr to 1.7 MMBTU/hr and beyond with up to four cascaded boilers.
Fuel for the Wood Pellet Heater
Wood Pellets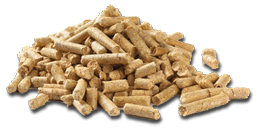 Wood pellet fuel is manufactured from milled wood particles, including waste wood, low-quality wood, and, less commonly, bark, which is pressed through dies at very high pressure. The most commonly available wood pellet fuel is graded "Premium". Premium wood pellet fuel contains less than 1% ash and conforms to other important limits. Typically, wood pellets contain less than 4% moisture. Wood pellets can be purchased in multi-ton bulk quantities or in 20- or 40-lb bags. 
As a rough approximation, 17.5 lbs of wood pellets provide the same amount of heat as a gallon of heating oil. With these characteristics, wood pellets burn very efficiently. They are also very easy and safe to transport and store. Wood pellets have an average net BTU rating of 8,200 BTU/lb. Please use our fuel cost comparison tool to calculate the relative fuel costs in your area. 
Wood pellets are ideal for automatic wood pellet boilers because the pellets are consistent and have better flow characteristics than other forms of wood fuel. Wood pellets are typically conveyed to wood pellet boilers with augers and/or conveyed pneumatically through hoses.
The Benefits of a Pellet Boiler
There are many perks to owning and using a whole-house pellet boiler. Some of these advantages include:
Lower costs: Wood pellets are historically more cost-effective than fossil fuels. Wood pellet fuel prices also fluctuate much less than oil and gas prices.
Tax credits: For residential purchases, wood pellet boiler heating systems are eligible for a 26% federal tax credit from the government through the end of 2021.
Sustainable heat: Wood pellets are a renewable resource with low carbon emissions, meaning you can heat your home or business with an environmentally conscious source.
Tarm Biomass delivers these benefits and more with your whole-house wood pellet boiler.
Get Started With a New Pellet Heating System With Tarm Biomass
Tarm Biomass has years of experience helping homeowners, business owners, and property managers find the ideal central heating pellet boiler systems for their applications. Our goal is to provide sustainable alternatives to fossil fuel heating and enable individuals and organizations to shrink their carbon footprint and increase their energy efficiency. It is possible to save money and encourage independence from big energy companies with ease.
When you work with us, we guide you throughout the entire process. We will analyze your heating application, lifestyle, and heating preferences and find the best product to suit your requirements. Once your wood pellet boiler is installed, we happily answer questions about aftercare and use so you get the most from your purchase.
Tarm Biomass is here to improve your quality of life with naturally sourced heat. To find out more about our wood pellet home heating systems, contact us online and speak to one of our sales representatives today!