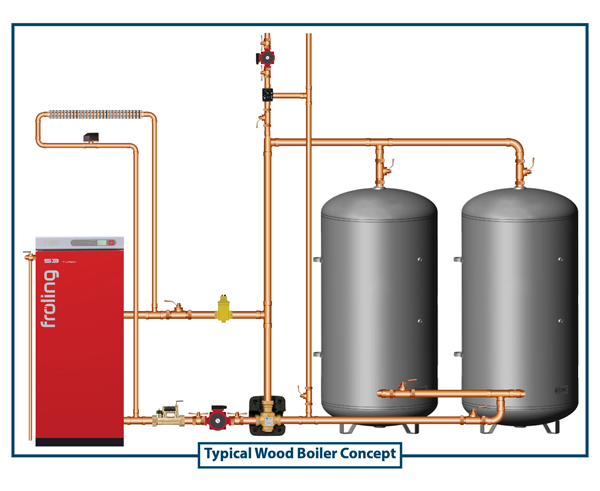 If you have a wood boiler system, you may drastically improve your experience with a heat storage system. This component makes your boiler more efficient and easier to use while reducing service requirements. A hot water storage tank system is a must-have for a modern approach to heating your home or business with wood. Let's take a look at how these systems work, what they have to offer, and advice for choosing the right size.
Get More From Your Boiler With a Heat Storage System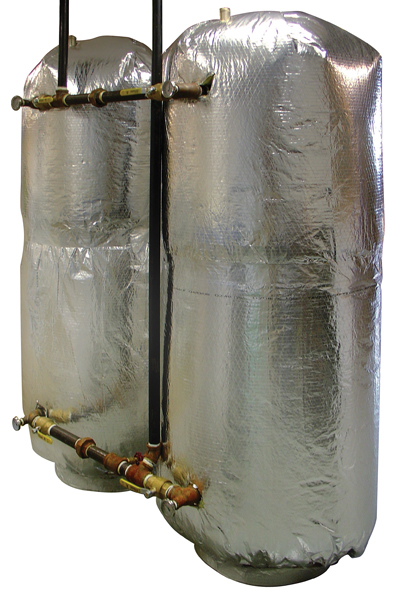 A heat storage system allows a wood boiler to operate continuously in its most clean and most efficient state. Heat storage captures and releases heat like a battery, so the boiler needs to be loaded less often. These systems use insulated hot water storage tanks or buffer tanks — which function similarly in this context — to hold onto generated heat and release it as needed. Heat storage works equally well in both residential and commercial settings.
Storing the heat from your wood boiler offers benefits like:
Efficiency: Fewer on/off cycles and smoldering keeps combustion temperatures high to make full use of fuel while decreasing total emissions and emissions toxicity. Good tank insulation prevents heat loss.
Fewer service requirements: A heat storage system minimizes tending and creosote formation, so boilers and chimneys require less maintenance and last longer. 
Simple operation: Heat storage systems are maintenance-free.  Heat storage reduces your workload by minimizing visits to the boiler for tending the fire.  You can relax and enjoy a warm home, stay inside, and only tend the fire twice a day or less often.
Longer boiler life: Without hot water storage tanks for wood boilers, the system might shut off and turn on several times to accommodate varying heating demands. This process, called short-cycling, can lead to a buildup of residue, namely creosote and acidic condensate, which can drastically reduce your boiler's life span. Gasifying wood boilers remain free of corrosive creosote when burning continuously.  A wood boiler operated properly with a heat storage system will last substantially longer and maximize its return on investment. 
Immediate heat: Don't worry. If the heat storage is no longer hot, heat will go straight from the boiler to the heating load.  There is no need to wait for the thermal storage to heat up first. 
How a Heat Storage System Works
A heat storage system is an important component of modern wood boiler systems. While a wood boiler is actively heating, the heating demand may vary.   If heat demand is lower than the boiler output, storage systems absorb the extra heat, so the boiler keeps operating at ideal output.  Hot water flow is always prioritized for building or domestic water applications. The flow of heated water only shifts to heat storage proportionally as the heat is not needed by the building. 
Think of thermal storage as a rechargeable heat battery.  By absorbing extra heat generated during the burn cycle, heat storage allows wood boilers to operate with less tending, lower emissions, and higher efficiency. Heavy tank insulation holds stored heat, allowing for 12 hours or more between burn cycles, even on the coldest days. Many customers report 24-hour or longer re-loading cycles. 
Wood boilers used properly with heat storage will form no harmful firebox condensate and will outlast boilers used without thermal storage. Heat storage is a condition of some wood boiler warranties and EPA approvals. While not all boilers sold by Tarm Biomass require thermal storage, we almost always recommend it.
Pressurized Thermal Storage Tanks
Tarm Biomass has tried many forms of thermal storage tanks. We believe the most effective hot water storage system should be pressurized. A heat storage system under system pressure is oxygen-free, which means the steel will not corrode when properly installed. Water levels and water pH do not have to be managed constantly as with atmospherically vented tanks. The vertically designed tanks save precious floor space and encourage useful thermal stratification. The tanks are insulated after placement for ease of movement and installation.
Maintenance-Free ASME-Certified Tanks Made in the USA
Tarm Biomass Pressurized Thermal Storage Tanks are USA-made from thick carbon steel and are ASME certified. They are insurable, safe, and designed to be maintenance-free and long-lasting. Tarm Biomass has a wealth of expertise in the application of thermal storage, and we provide conceptually designed piping diagrams. Standard diameters are 30 inches for 220-gallon tanks and 36 inches for 300- and 400-gallon tanks. 220- and 300-gallon tanks require eight-foot-high ceilings, and 400-gallon tanks need nine-foot-high ceilings.
Tarm Biomass stocks most controls and valves to easily integrate thermal storage with a wood or wood pellet boiler. Have a look at our planning guides to learn more about system integration.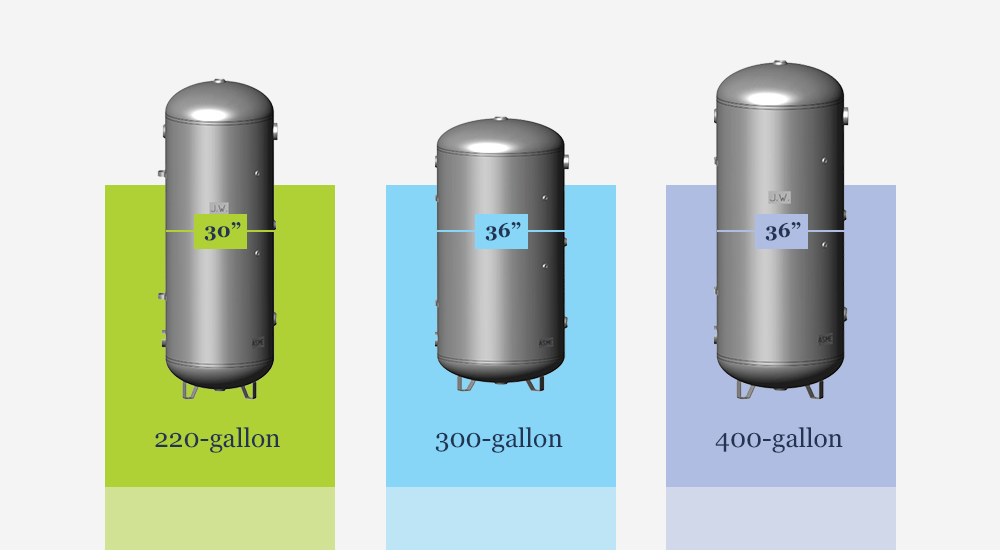 Our selection of wood boiler storage tanks includes:
Standard sizes of220, 300 and 400-gallon tanks, with custom sizes available- most tank systems are comprised of two or three like-sized tanks plumbed together

Maximum design pressure of 125 pounds per square inch (psi)

Maximum operating temperature of 450 degrees Fahrenheit, which far surpasses plastic and rubber alternatives

Low head loss design

Closed systems, which do not require annual water level and pH testing

Heavy-duty commercial-quality tanks

Use with Fröling Energy Tank for excellent domestic hot water production

One-year warranties
Not Suitable for potable water use
Fröling Energy Tank: All-in-One Thermal Buffer and Indirect Domestic Hot Water Heater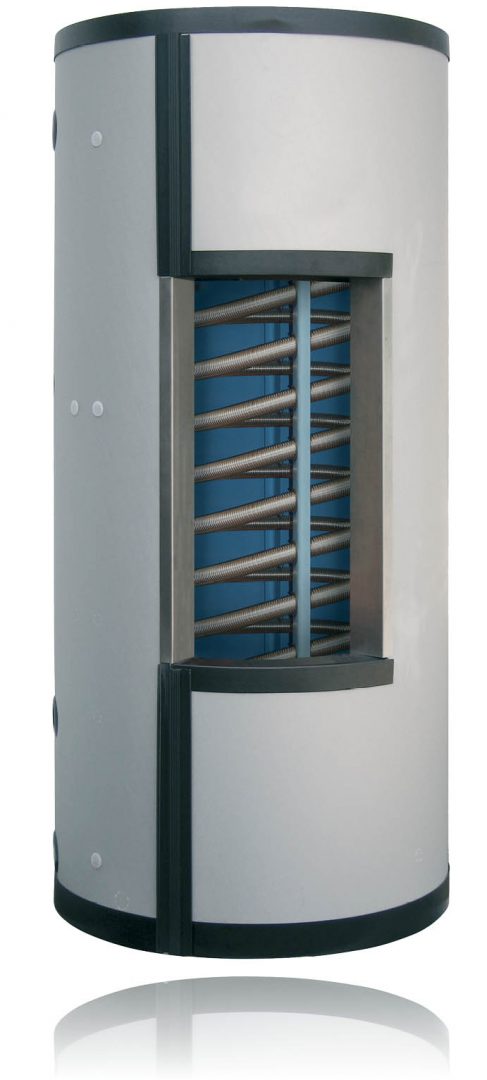 The Fröling Energy Tank is a unique stratification tank ideal for use as a heat storage/buffer tank for small pellet boilers and/or as a high-performance hot water heater in other applications. The Energy Tank is now available with or without a domestic hot water coil.
The 104-foot long — 64 square feet of heat exchange surface — stainless steel coil enhances a modestly sized, super-insulated heat storage tank with exceptional water heating capability. The coil consistently produces domestic hot water even with low input temperatures. Large tappings further increase potential applications for the Energy Tank.
The Fröling Energy Tank is perfect for pellet boilers with 25 kilowatts (kW) or less output. Pellet boilers modulate to match heating demand, but when thermostats are satisfied, it will take only a few minutes before a fully modulated pellet boiler will have to shut off. The Energy Tank solves that problem by absorbing surplus heat and releasing it again to the heat distribution system as required, which decreases on/off cycling. Wear and emissions are significantly decreased.
The Fröling Energy Tank offers:
A 119-gallon carbon steel tan

k

A stratification baffle to enhance the effectiveness of stored heat

Zip on/off insulation for losses of less than 1/3 degree Fahrenheit per hour

A corrugated stainless steel coil, creating 64 square feet of heating surface

Strategically sized and located tappings for use as a thermal buffer or domestic hot water tank

A sensor bar, which holds many sensors at various positions

Compatibility for pellet boilers up to 25 kW

A 5-year warranty
This system offers unique heat management capabilities for optimal intake and energy extraction. The result is an industry-leading piece of equipment that can make thermal storage simpler and more efficient, all from the boiler experts at Fröling.
Fröling Energy Tank With and Without Stratification Baffle
A stratification baffle can make a significant difference in the boiler's ability to store energy and for the tank to provide useable heat. The stratification baffle reduces thermal mixing in the tank, which keeps the hottest water supplied to the tank outlets until the tank is fully depleted of heat.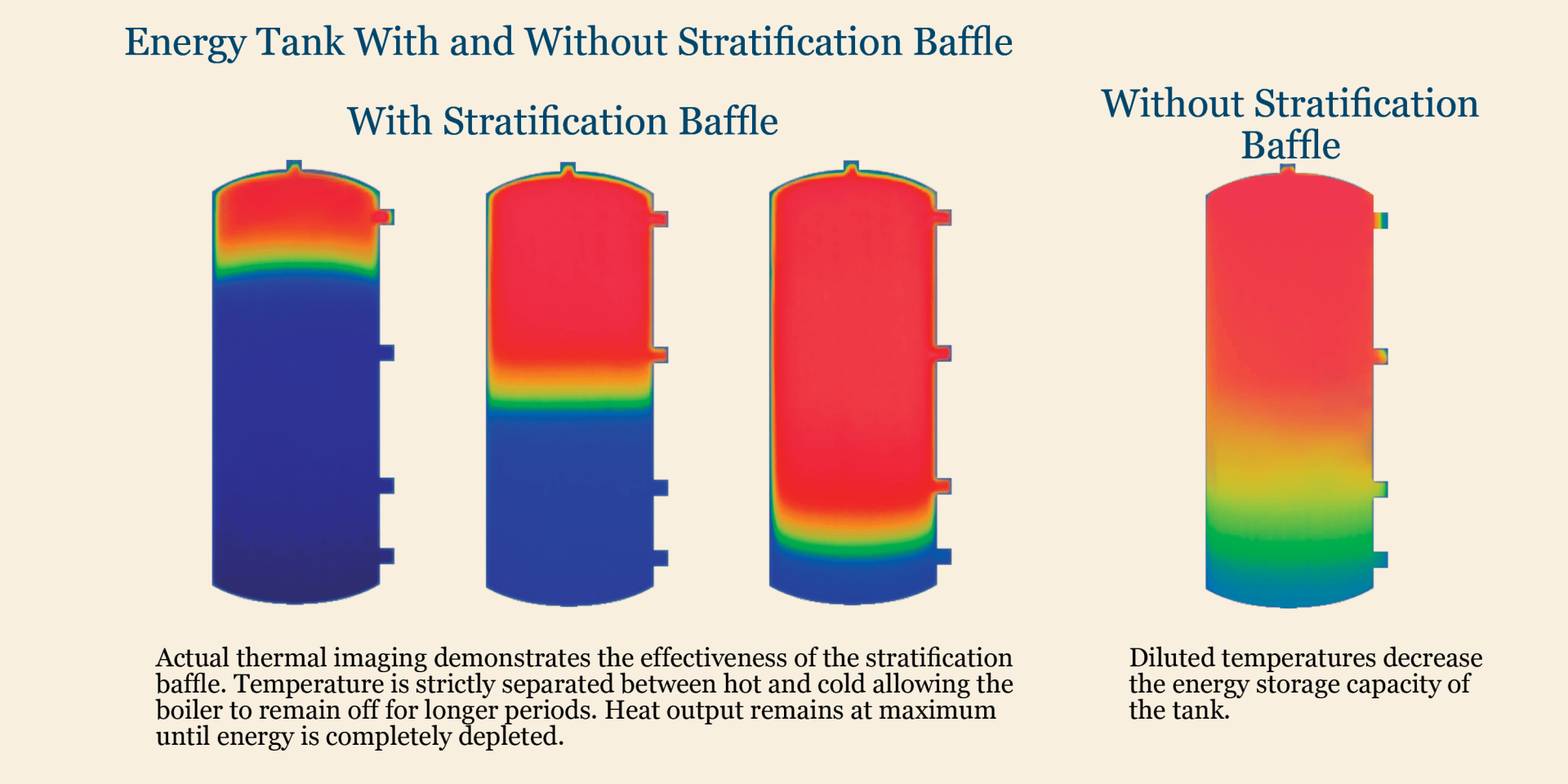 Thermal Storage Tank Piping
There are a wide variety of piping options when using one or more thermal storage tanks. If  a larger system volume is required, one to four tanks can be connected together either in parallel reverse return (preferred method) or in series.
The parallel reverse return system, also called Tichelmann System, guarantees equal charging and energy utilization in thermal storage tanks. Having the same pipe lengths for both supply and return prevents flow-balancingissues. When the tanks are physically different in size or are not in the same location, you can also use a series connection. The first tank charges before the next one. Reverse flow removes energy from the tanks. We have many plumbing drawings available to show these processes. Please see our wood boiler planning guide or our pellet planning guide for more details.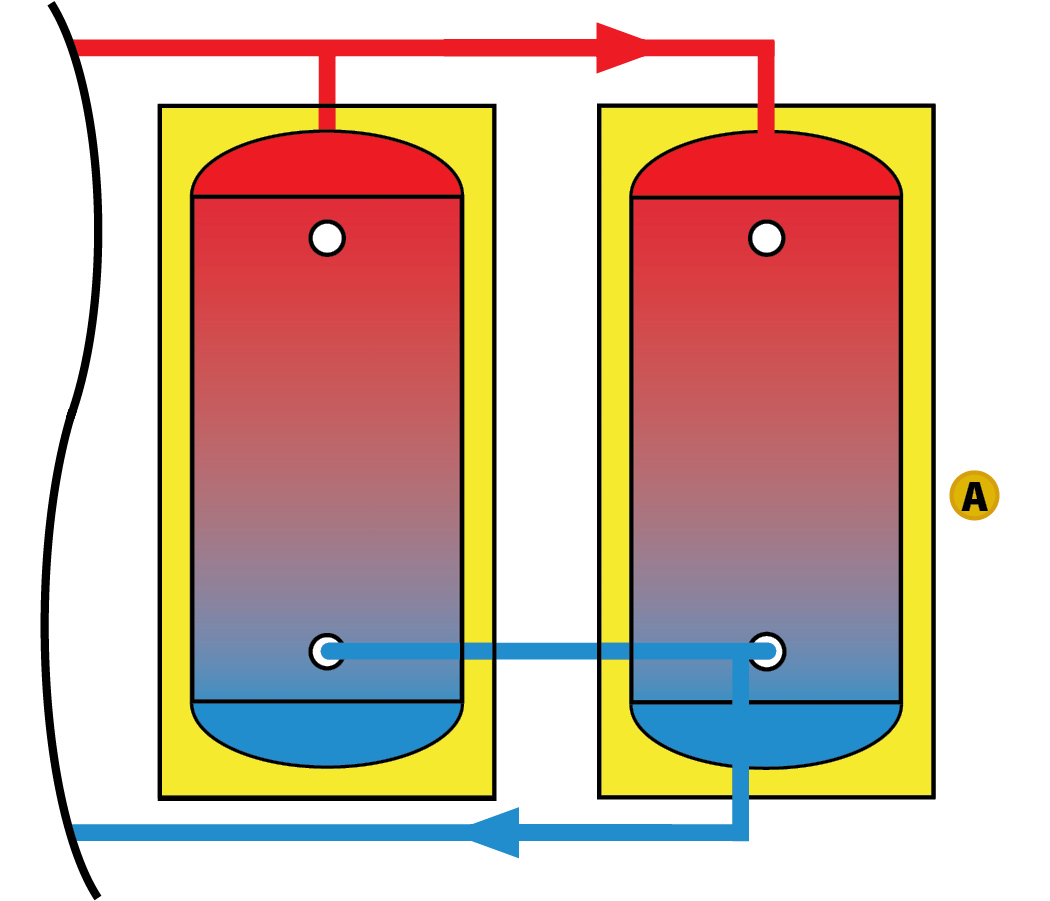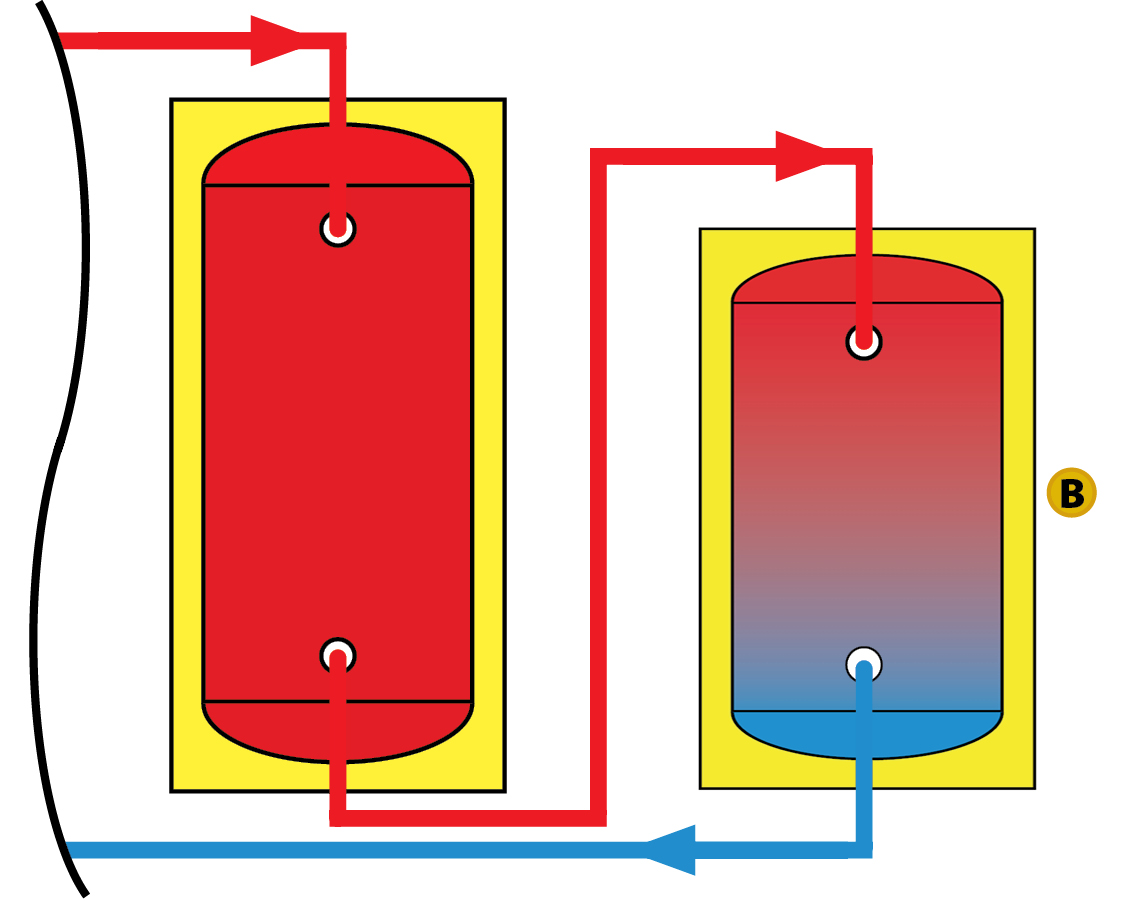 | Boiler Model | Boiler Output | Volume (Minimum - Ideal) |
| --- | --- | --- |
| Fröling S3 Turbo 30 Wood Boiler | 95,539 Btu/hr | 400-800 Gallons |
| Fröling S3 Turbo 50 Wood Boiler | 163,783 Btu/hr | 600-1200 Gallons |
| Effecta Smart 40 Wood Boiler | 136,500 Btu/hr | 400-900 Gallons |
| Effecta Smart 55 Wood Boiler | 188,000 Btu/hr | 800-1200 Gallons |
| Fröling PE1 20 Pellet Boiler | 68,243 Btu/hr | 119-185 Gallons |
| Fröling PE1 35 Pellet Boiler | 119,425 Btu/hr | 200-325 Gallons |
| Fröling P4 48 Pellet Boiler | 163,780 Btu/hr | 300-450 Gallons |
| Fröling P4 60 Pellet Boiler | 200,000 Btu/hr | 400-560 Gallons |
| Fröling P4 80 Pellet Boiler | 273,000 Btu/hr | 600-740 Gallons |
| Fröling P4 100 Pellet Boiler | 341,000 Btu/hr | 600-925 Gallons |
Learn More About a Heat Storage System for Your Wood Boiler
A heat storage system is an important part of a wood boiler system, so picking the right one is crucial. Whether you already have a wood boiler or are considering a heat storage system for a new purchase, the experienced team at Tarm Biomass can help. We've been working with wood boilers for decades, bringing European design and professional services to residential and commercial clients in North America.
Contact us today to learn more about heat storage systems and how we can help you find the right one for your home or business.