Thermal Storage
Buffer Tanks for Biomass Boilers
Efficient-Clean-Simple Energy Storage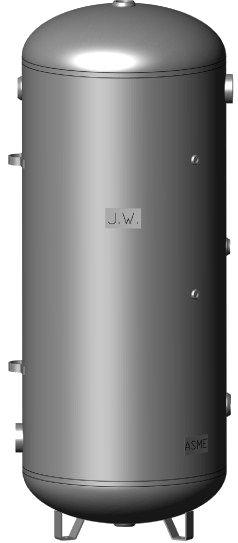 Since selling our first thermal storage tank way back in 1996, we have been a strong advocate for the benefits of buffer storage. All wood boilers benefit from a thermal buffer. The most advanced and efficient wood boilers available are designed for use with thermal storage and will not perform to their design capability without thermal buffer. Heat storage is a condition of some wood boiler warranties and EPA approvals. Fully automatic wood pellet and wood chip boilers can be installed without thermal buffer tanks in some applications, but the use of thermal storage is generally advised for reducing burner starts, reducing wear on cycling parts, decreasing emissions, and the need for boiler service, while improving heating response times. This means less ash creation and a higher degree of building occupant comfort.

Tarm Biomass offers ASME-certified pressurized storage tanks in several sizes. For smaller pellet boiler applications, the Fröling Energy Tank is a great option. It is not only a buffer tank, but it is also a highly efficient indirect domestic hot water tank. For a wood boiler or larger pellet boiler applications where a separate domestic hot water production is needed, we offer the Turbomax indirect hot water tank.
Thermal Storage tank Piping
Many Piping Options Available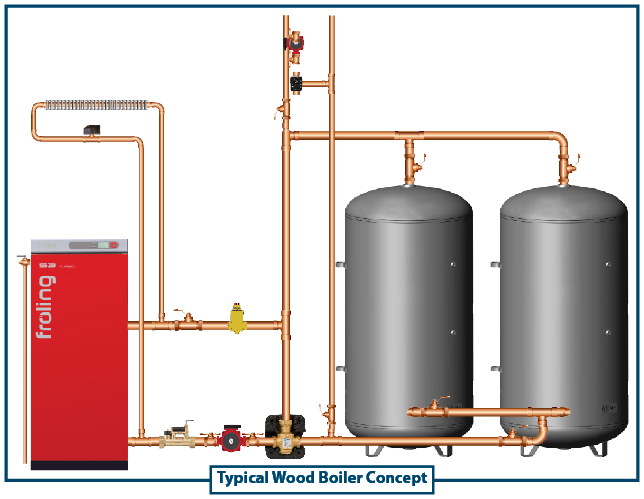 There are a wide variety of piping options when using one or more thermal storage tanks. If a larger buffer tank is required, one to four tanks can be connected together either in parallel reverse return (preferred method) or in series. The parallel reverse return system (also called Tichelmann System) guarantees equal charging and utilization of energy in the thermal storage tanks. Having the same pipe lengths for both supply and return will prevent any balancing issues. When the tanks are physically different in size or are not in the same location, series connection is an option. The first tank will charge before charging the next tank. Reverse flow removes energy from the tanks. Tarm Biomass has many plumbing drawings available - please see our wood boiler and pellet boiler planning guides.
Heat Storage Tank Systems Installation Examples
Thermal Storage Options for all Types of Boilers