Thermal Storage Buffer Tanks for Biomass Boilers
Efficient-Clean-Simple Energy Storage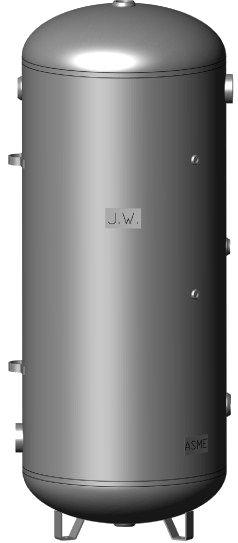 At Tarm Biomass, we began selling thermal storage tanks back in 1996, and we've been a strong advocate for them since. Every wood boiler can benefit from hot water thermal storage, and some EPA approvals and boiler warranties require it. The most advanced and efficient wood boilers available are designed for use with thermal storage and will not perform to their design capability without a heat storage tank.
We carry ASME-certified pressurized storage tanks in several sizes to suit your heating needs. For smaller pellet boiler applications, the Fröling Energy Tank is a great option. While it acts as a buffer tank, it also functions as a highly efficient indirect domestic hot water tank. For a wood boiler or larger pellet boiler applications where separate domestic hot water production is needed, we offer the Turbomax indirect hot water tank.
Why Is Thermal Storage Essential for Wood Boilers?
Heat storage tanks enable wood and wood pellet boilers to burn hotter and more consistently. A building requires varying amounts of heat, but wood boilers operate best when heat output is consistent. Heat storage tanks enable boilers to operate independently of the building demand for heat. Heat storage tanks also provide instant heat when a boiler is off. With thermal storage, a boiler can be fired once or twice a day or less because the tanks carry heat for many hours and often days.
Without thermal storage, a boiler often shuts off and restarts several times as it responds to heating needs. This process is called short-cycling, and it ultimately reduces your boiler's efficiency. With wood boilers, short cycling can cause a buildup of creosote and acidic condensate, which can dramatically shorten the life of the boiler. With hot water thermal storage, the boiler can use the stored heat to respond to calls rather than turning on and off several times. Wood boiler heat storage accomplishes the following:
Reduces starts and re-loading

Decreases wear on cycling parts

Lowers emissions

Reduces need for boiler service

Prevents dangerous creosote buildup in older boilers
Thermal Storage Tank Piping Options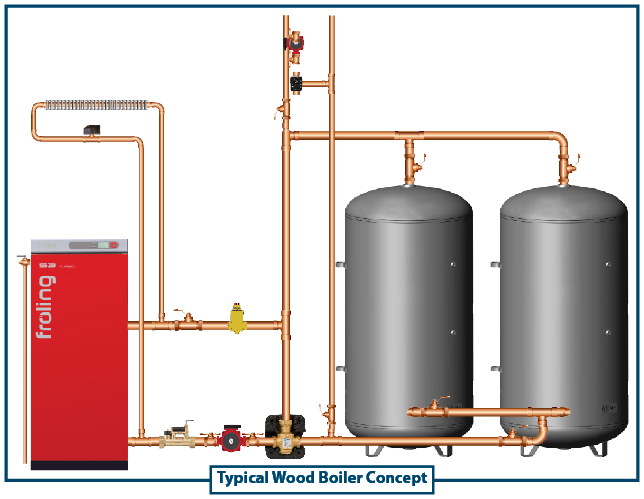 There are many different piping options when using one or more thermal storage tanks. Some options include:
Parallel reverse return (Tichelmann System):

Use this system with one to four tanks of the same size or in the same space. The equal pipe lengths for supply and return maintain balanced charging and energy use.

Series connection:

If the tanks are of different sizes or in different locations, a series connection ensures the best operation. The first tank will charge completely, then charge the next tank in the series. Reverse flow removes energy from the tank.
Tarm Biomass has many plumbing drawings available to address your thermal storage needs. Please see our wood boiler and pellet boiler planning guides.
Are Thermal Storage Tanks for Commercial or Residential Pellet Boilers?
Because thermal storage prevents boilers from excessive cycling and improves efficiency, storage tanks are a wise move for commercial and residential pellet boilers. Also, when pellet boilers are off, thermal storage will provide heat while the boiler comes up to temperature.  With the correct setup, you can reduce strain on motors, lower emissions, decrease ash production, and increase thermal performance.
Residential pellet boilers don't need large volume storage tanks. The Fröling Energy Tank or a single Pressurized Thermal Storage with a TURBOMAX 23 tank are excellent options for residential properties. Commercial properties often need high-capacity heating to cover larger areas.  Custom tanks sizes may be a good option for commercial use if stock size tanks at Tarm Biomass are not adequate.
Heat Storage Tank Systems Installation Examples
Regardless of whether it is commercial or residential use, boiler storage tanks almost always improve the operation of wood-fueled heating systems. See some examples below.
Hot Water Storage Tank for Boilers
If you want to get the highest possible efficiency from your wood boiler, hot water thermal storage is the right move. At Tarm Biomass, we carry a range of thermal storage tanks to accompany your boiler. Get in touch with us today for help finding the best model for your needs.