Equipment
Boiler: Fröling FHG 20/30 (100,000Btu/hr) wood boiler.
Thermal Storage: Two 300 gallon ASME steel tanks.
Domestic Hot Water: Turbomax 23
Sold By: Sunwood Biomass 124 Fiddlers Green, Waitsfield, VT 05673
Installed By: Jackman's Inc. 32 Pine Street, Bristol, VT 05443
The system is installed in a 1,700 sq. ft. home with radiant floor heat on the main floor and a traditional baseboard on the second floor. The customer replaced the old oil boiler with a wood system and a new efficient gas boiler for backup. The two tanks were insulated by constructing an insulated box around the tanks. This is very easy to do and can be done by the homeowner. This installation has R-42 in the walls and R-48 in the ceiling. One thing to remember, the tank sensors must be insulated to the tank. This enables them to read tank temperature and not the air temperature around the tanks.
The customer is amazed at how easy the boiler is to use and start. They maintain over 30 wooded acres, so plenty of wood fuel to sustain them into the future.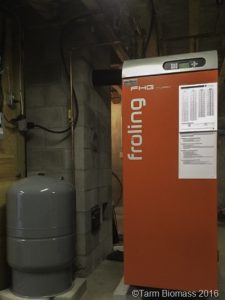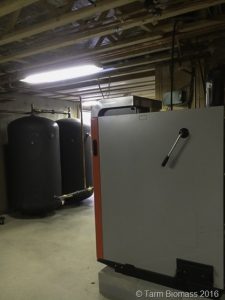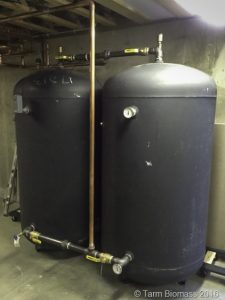 Two 300 gallon tanks shown before the insulation was installed. Tarm Biomass can also supply all the necessary fittings for the tank's manifolds. They are piped in parallel (reverse return), so water flows evenly between both tanks. The two 300 gallon tanks act as one single 600-gallon tank.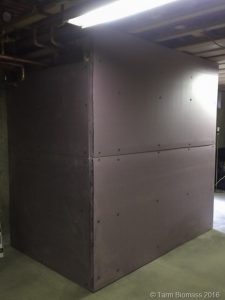 Tanks with completed insulation.