The historic Ladd Hall in Waterbury, VT has gone through a huge makeover. The building was sitting vacant since August 2011, when Tropical Storm Irene hit and flooded the basement. The original building was bult in the 1890's with a wing added in the 1950's to house nurses working at the state hospital. The building was then later used for offices for the state.

Building Information: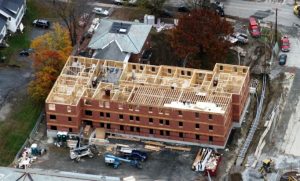 The original front brick building was converted into 2 3-bedroom apartments and a one bedroom apartment on the third floor. The 1950's addition was totally demolished and replaced with new construction to house 23 more apartments (twelve1-bedroom and eleven 2-bedroom). The new wing is where the new heating system is located and is built to high energy efficient standards. The total square footage is 28,000 Sq. Ft. Building owned and operated by Downstreet Housing and Community Developement located in Barre, VT.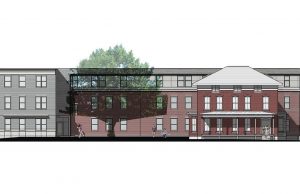 Architectural Rendering



Completed View of New Construction Wing
Heating System: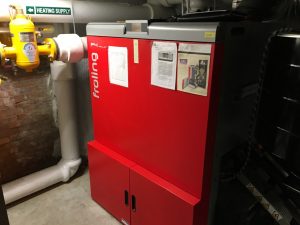 The new heating system comprises of two 350,000 Btu/hr Fröling P4 pellet boilers with 900 gallons of heat storage. Heat storage allows allows efficient heating of Domestic Hot Water year-round and efficient boiler. The building has NO fossil fuel back-up boiler. The pellet boilers are estimated to offset approximately 10,000 gallons of heating oil annually. The boilers are connected to a 20 ton interior pellet store room. Each boiler has it's own suction auger delivery device.
Heating System was designed by Trevor Parson, Engineering Services of Vermont, and Sunwood Biomass. Installed and manitained by SunWood Biomass, Waitsfield, VT. 802-583-9300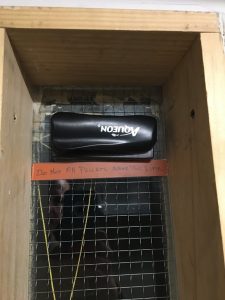 Viewing window for the pellet store room. The squeegee looking device is actually using a magnet to keep the glass free from dust.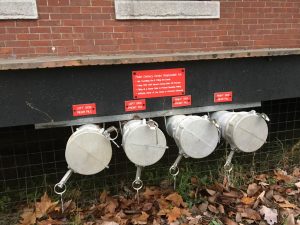 Pellet fill connections.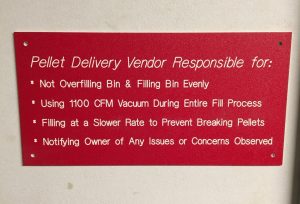 We like the placards.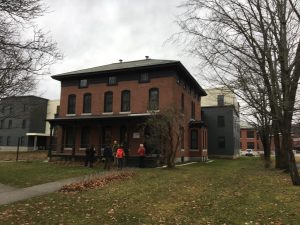 The original building.


The new wing housing 23 apartments of Affordable Housing.