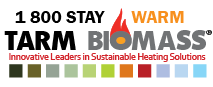 Tarm Biomass Pressurized Thermal Storage
Heavy Duty ASME Rated Steel Buffer Tanks
Thermal Storage and Buffer Tank Specialists

Tarm Biomass has been utilizing thermal storage with wood boilers since 1998. Over the years, we have taken some heat for being dogged proponents of the use of thermal storage in wood burning installations. However, our belief in the use of thermal storage has given us decades of valuable integration experience. Whether for use with residential cord wood boilers or for use with large commercial wood chip boilers and everything in between, thermal storage is almost always a smart choice, even if not a requirement. Tarm Biomass provides tank plumbing, control, and insulation kits to reduce planning and installation time while ensuring successful operation.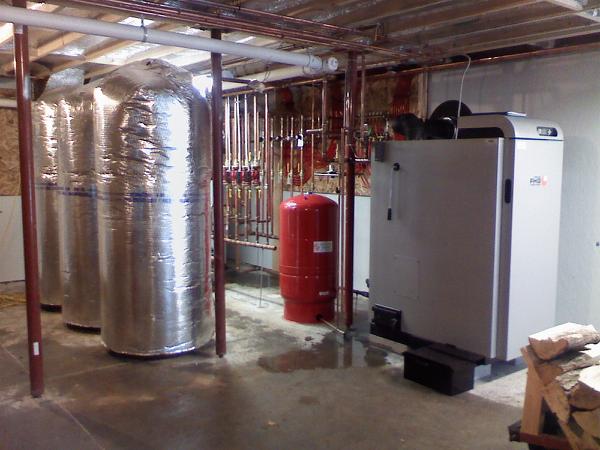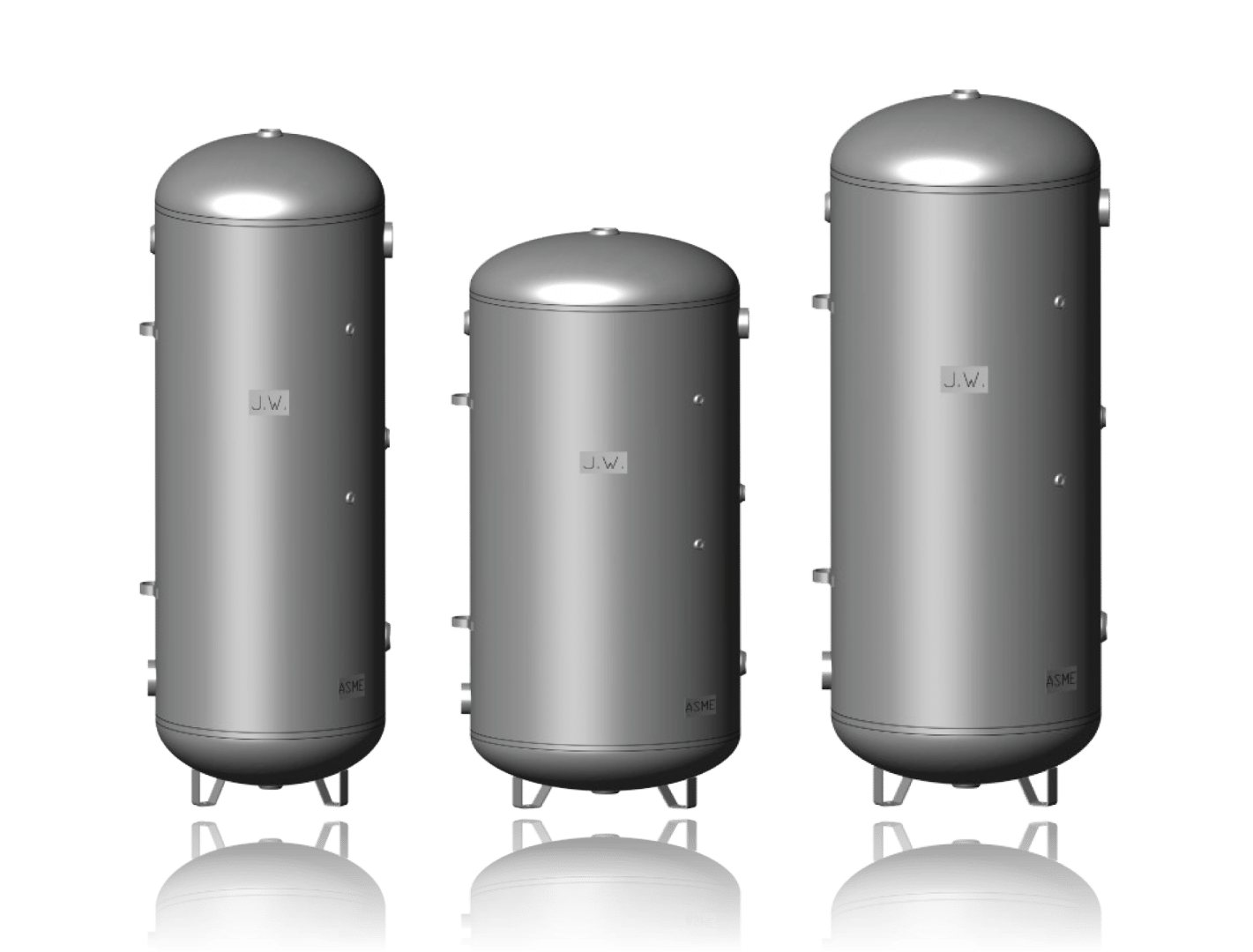 Tarm Pressurized Thermal Storage Tanks
Tarm pressurized thermal storage tanks are heavy duty, USA made, ASME rated pressurized thermal storage tanks made of thick carbon steel. The tanks are designed to be maintenance free and long lasting. Pressurized operation is oxygen free operation, which means the steel will not corrode when properly installed.  Standard diameters are 30 inches for 220 gallon tanks and 36 inches for 300 and 400 gallon tanks.  220 and 300 gallon tanks require 8 foot high ceilings.  400 gallon tanks require 9 foot high ceilings. Vertically orienting the tanks saves valuable floor space while encouraging  desirable thermal stratification. Insulation is added after the tanks are placed for ease of movement and installation. Tarm Biomass has a wealth of expertise in the application of thermal storage. We provide conceptual installation diagrams for a multitude of installations. Tarm Biomass stocks most valves and controls for easy integration of thermal storage with your wood or wood pellet boiler.
Learn More - Planning Guides - Installation Manual - Submittal Sheets
Pressurized Thermal Storage Tank Features
• Improve boiler efficiency, simplify operation, and increase boiler utilization.
• Tarm Tanks are legal and safe equipment compared to unrated home-built alternatives.
• Maximum operating pressure: 125 psig.
• Maximum operating temperature: 450º F. There is no need to worry about over-heating plastic or rubber liners.
• Most installations will use fewer circulators than with coil-based, un-pressurized buffer tanks.
• Due to low flow restriction through Tarm Tanks, they are perfect for use with low-energy circulators.
• Vertical orientation saves floor space and encourages thermal stratification.
• Tarm Tanks are part of a closed system, which requires no annual water level and pH testing.
• Combine with Turbomax or Fröling Energy Tank instantaneous indirect hot water tanks for domestic hot water production.
• Fabricated and stamped in accordance with the ASME requirements.
• Strap type support legs provide approximately 1⅞" clearance for the 30" diameter, and 1¾" clearance for the 36" diameter.
• Pipe tappings are located in optimal locations for sensors, vents, and flow connections.
• Standard inlet/outlet connections: FNPT.
• Made from Carbon Steel.
• Exterior finish: gray primer.
• Interior finish: plain.
• One-year Warranty.
Wood Boilers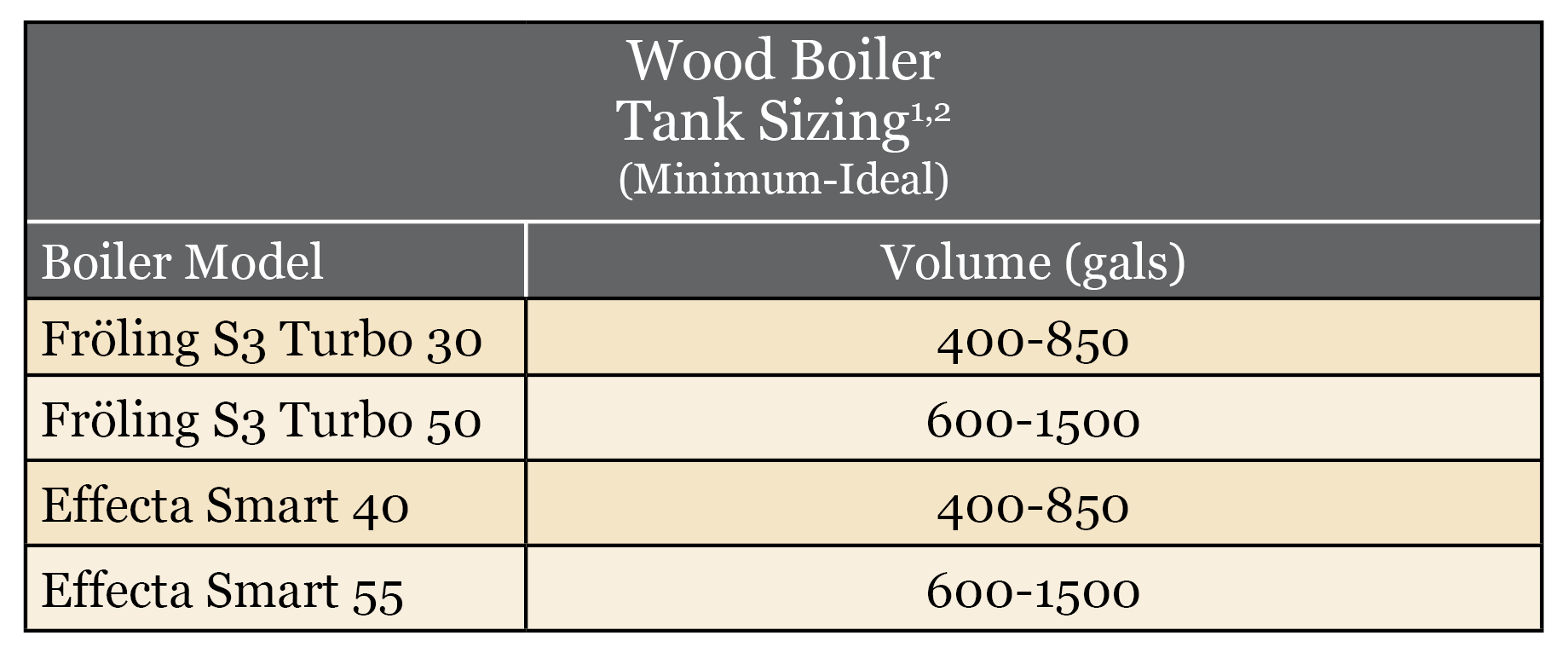 Boilers burned continuously at full output for longer periods of time produce the cleanest emissions and operate at higher efficiency. However, operation at continuous, high output often produces more energy than the heating load requires. Heat storage tanks absorb extra heat generated during the burn cycle and store the heat in the water for later release and acts as a buffer between the boiler and the heat load allowing for greater utilization of the boiler. Heavy insulation on heat storage tanks allows for long durations between boiler run cycles.  For owners of wood boilers, heat storage allows much more freedom and flexibility of use. For instance, during a typical winter day, many wood boilers used with heat storage are loaded once in a 24 hour period. In spring, a wood boiler may be fired every 2 days.  In summer one firing every 4-10 days for domestic hot water is usually all that is needed. Pellet and wood chip boilers can have on/off cycles cut in half or more as a heat storage tank allows for both longer run and off cycles. For sizing guidance, boiler manuals will recommend minimum heat storage volumes.
Pellet Boilers
<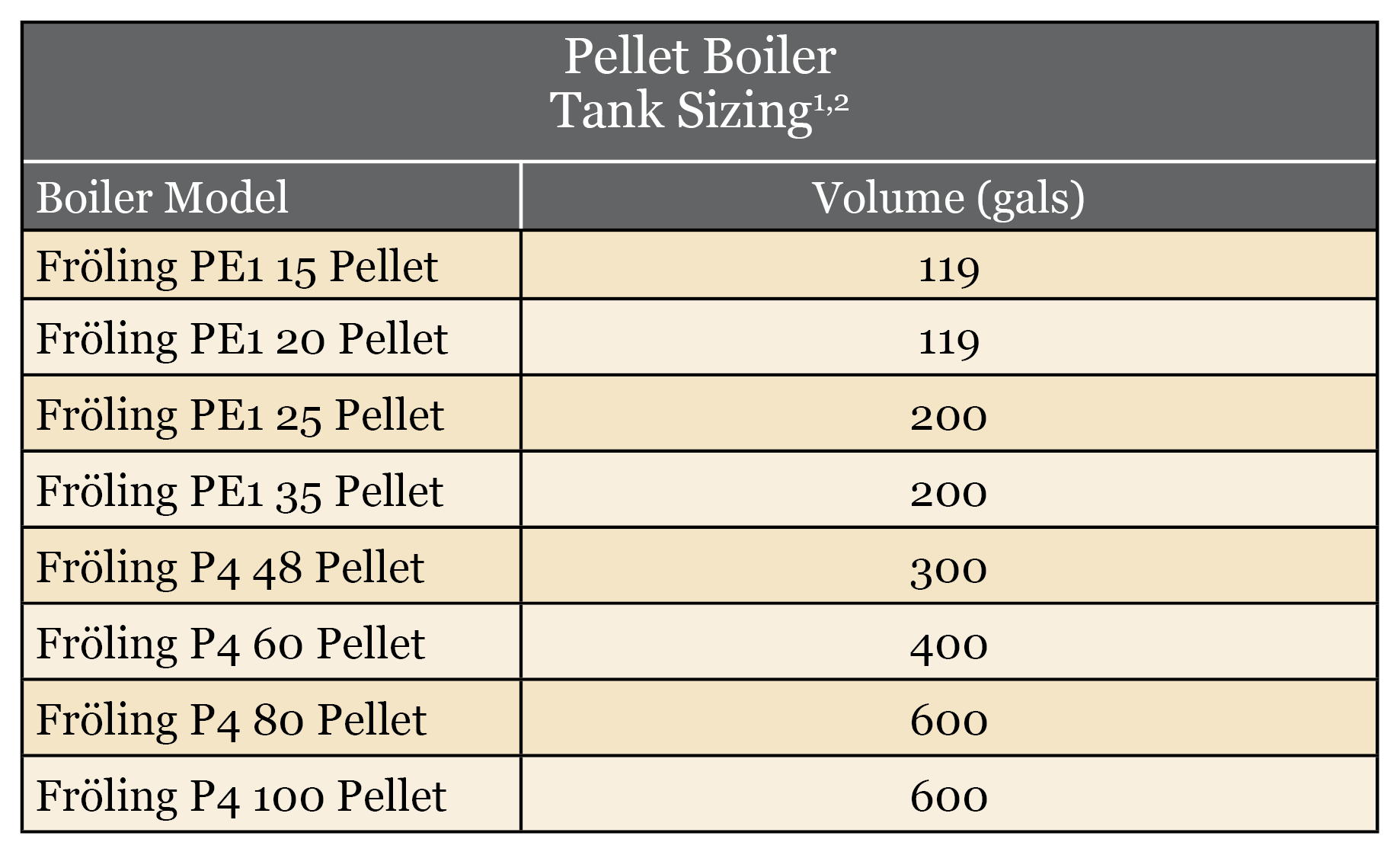 Automatic wood boilers such as wood pellet and wood chip boilers can modulate heat output plus start and stop automatically. However, even wood pellets and wood chips cannot be ignited and extinguished immediately. The relatively slow ignition and burnout properties of wood along with inconsistent heating loads make heat storage/buffer tanks a smart investment.

Heating demands are often highly variable.  Typically heating demand varies seasonally, diurnally, due to building occupancy, and due to a host of other factors. As an example, in some homes on sunny winter days heating demand can go from maximum to almost zero when the sun is shining directly through south facing windows. Wood pellet boilers usually modulate heat output from 30 to 100%, but if the heating demand drops below 30% of maximum boiler output, most pellet boilers must shut off after 5-10 minutes without a demand.

By using heat storage/buffer tanks, automatic, modulating boilers are allowed to run longer to heat up the heat storage/buffer fully.  When the heat storage/buffer is fully heated the boiler will shut off. Once shut off, automatic boilers will not start again until the temperature of the heat storage/buffer is depleted. As a result there are far fewer start and stop cycles, fewer operating hours and better emissions! This means less boiler wear and tear, less fuel & electricity consumption and cleaner air.
1 State incentives and/or regulatory programs may demand alternate tank sizing.
2 Consult with Tarm Biomass about properly sizing thermal storage in your application.
Thermal Storage Tank Accessories
Learn More about Thermal Storage Today!
Claim your energy independence and start saving. Contact us to learn more.