Commercial Biomass Boilers
Our commercial and industrial customers want boilers fueled by renewable, sustainable wood chips, and pellets. Reliable and economical options are a necessity, and Fröling is the manufacturer you can trust. As the leading biomass boiler manufacturer with millions of operating hours on the field and in the lab, Fröling designs products that deliver durability, reliable automation, and advanced service and safety features.
Commercial boilers can lead to massive fuel savings, but it has to meet performance standards. Minimal maintenance and operator intervention are essential, and efficiency has to last for the long term. With Tarm Biomass and Fröling, these characteristics are within reach.
Commercial Industries Served
With the rise in government backing for clean energy initiatives, commercial wood chip boilers have a place in many commercial sectors. Any building that requires heat can benefit from an industrial biomass boiler to handle its temperature regulation needs. Industries include:
Retail

Education

Healthcare

Manufacturing

Hospitality

Food Preparation
Commercial biomass boilers have the power and sustainability to serve these industries long-term. With flexible setups available, any building can use a wood chip boiler.
Commercial Boiler Systems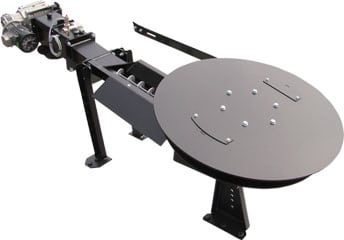 Fröling offers several advanced fuel feeding options to suit your space, including pneumatic conveyance, augers, scraper floors, rotary feeders, and chain conveyors. You can find the feeding system that fits your space best and suits your preferred fuel storage location. Hybrid setups offer further flexibility.
You can find commercial biomass boilers up to 1.7 million Btu/hr at Tarm Biomass. If you choose to join boilers in cascade alongside your feeding system, you can create a flexible heating response for loads as high as 6.7 MM Btu/hr.
We provide our boilers through authorized dealers. To get started, send us a boiler room drawing, and we'll create a CAD drawing of your boiler and feed system with a quote.
Commercial Boilers For Sale From Tarm Biomass
High heat efficiency, automatic feeding, high durability, and user-friendly controls make these Fröling boilers the ideal systems for commercial buildings:
Commercial Biomass Boiler Installation Examples
Whether you install your heating system in a new building or in an existing building, you can enjoy efficient and renewable energy with a commercial wood chip boiler.
Invest in an Fröling Industrial Boiler
With the flexibility, efficiency, and reliability of a Fröling boiler, you bring sustainable heating to your commercial building. From offices to manufacturing plants, a wide array of boilers, feeding options, and fuel capabilities can transform the way you handle heating. 
At Tarm Biomass, we'll work with your engineer to ensure you obtain a Froling boiler that suits your heating needs, floor plan, and space limitations. We'll work with you to find the right system for your building, and we'll always be ready to answer your questions and guide you along the way. Get in touch with our team today to get started.