Commercial and Industrial Biomass Heating
Commercial Biomass Boilers from Fröling
Reliable-Renewable-Economical
Our customers seek commercial biomass boilers fueled by sustainable, renewable wood pellets and wood chips.  From precision dry chips to wood chips with moisture content as high as 45%, we provide boilers for burning many forms of clean, pure wood.
Operating reliably and economically is a must.  Fröling is the world's leading biomass boiler manufacturer with millions of boiler operating hours in the field and laboratory over the last 60 years.   Fröling capitalizes on that experience by building commercial boilers with high durability, state of the art automation, and advanced features for service and safety. 
Commercial biomass boilers can produce huge fuel savings, but they must perform.  When watching the bottom line, low maintenance with minimal operator intervention is a must.  Efficiency must be high not only in the laboratory but also in long term daily use.  These are guiding principles for Tarm Biomass and Fröling.
Commercial Biomass Fuel Feeding Options
Many Fuel Feeding Options Available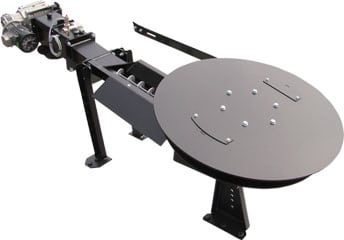 Biomass fuel feeding systems are available for almost any application.  Expertise in fuel handling and design are also crucial for commercial biomass boiler reliability.  With thousands of commercial biomass boilers installed around the world, Fröling continues building a reputation for performance.  There are many fuel feeding options such as pneumatic conveyance, augers, scraper floors, rotary feeders, chain conveyors, and bunker filling systems.  Fröling also designs and builds hybrid feeding systems that utilize various handling techniques.  Fuel handling is available for just about any fuel type and/or structure.
Commercial biomass boilers are offered up to 1.7 million Btu/hr.  Joining boilers in cascade produces a flexible heating response for loads as high as 6.7 MM Btu/hr.
We provide commercial biomass boilers through authorized dealers.  To get started, please provide us with a boiler room drawing and we will respond with a quote and CAD drawing of the boiler and feed system(s) ready to be dropped into your plans.
Commercial Biomass Boiler Installation Examples
Unlimited Possibilities