Busy Campground Makes the Switch to a Fröling Wood Pellet Boiler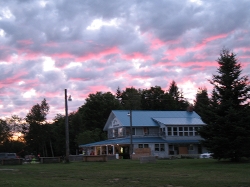 Israel River Campground in Jefferson, NH has been burning over 12 cords of wood and 1,400 gallons of oil per season for 10 years in an HS-Tarm Excel multi-fuel wood gasification boiler. The almost 7,000 square foot main building, which houses the camp store, bathrooms, laundry facilities, recreation room, and owner's living quarters is a large demand for the Excel wood boiler, which is rated at 140,000 Btu/hr. with wood and 160,000 Btu/hr. with oil.
After consulting with Tarm Biomass about the best path forward, the owner decided to hire Tarm to install a Fröling P4 48/60 200,000 Btu/hr. automatic wood pellet boiler. A new 10' X 20' boiler room was built on the backside of the building to house the new wood pellet boiler, 400-gallon Tarm Biomass thermal storage tank, Turbomax 23 indirect water heater, new heating manifolds, and wall-hung propane boiler. Outside, a six-ton silo was added to hold bulk wood pellet fuel.
The wood boiler was previously installed in the corner of the recreational room. Removing the boiler and associated plumbing created a lot of free space. Take a look at the "before" and "after" pictures and you'll know why moving the pellet boiler to its own space was a major upgrade (the fireplace is slightly to the left of the wood boiler and out of the picture). The whole room received a make-over with new flooring, ceiling, and paint. Having the new wood pellet heating system including all of its piping and components in its own space makes life much easier.
The installation was completed in September of 2018. As of the end of April 2019, 19 tons of pellet fuel had been delivered and several tons remained in the silo. We will be interested to learn more about fuel use for showers, laundry, and other campground uses, which can be heavy during the summer months. Former fuel use was roughly equivalent to 39 tons of wood pellets per year. It is highly doubtful that another 20 tons of fuel will be used from May to September, so it seems the new pellet boiler is a substantial efficiency upgrade.
Equipment: Fröling P4 48/60 200,000 Btu/hr Automatic Wood Pellet Boiler
                          Tarm Biomass 400 Gallon Thermal Storage Tank
                          Brock 6-Ton Silo with 60 Degree Angle Bottom
                          Turbomax 23 Indirect Water Heater
System Installed By Tarm Biomass 1-800-782-9927
Installation Photos
What a Transformation!