World class products such as Effecta wood boilers aren't hatched in one day.  Making great wood boilers requires reactionary development and evolutionary design.  Markets are ever changing.  In Sweden, where renewable heat is ordinary,  Effecta has become known as a market leader.  Thirty six years of effort and experience are infused into Effecta wood boilers.  Here's a brief history of those 36 years.
Effecta is a family run company founded in 1982 by Veronica and Bertil Ericsson.  Today, the grandchildren of Veronica and Bertil, Erik and Hannes Andersson operate the company along with their business partners Stefan Olsson and Toni Palm.
The first Effecta wood boilers were made primarily for the farm and forestry communities.  The boilers resembled outdoor wood boilers that we are familiar with in the United States.  The boilers were so large that many chose to use unsplit  firewood up to 36" long.  The first wood boilers, were named Effecta VP.  VP stands for Vedpanna, which means wood log boiler.  The boilers had built-in thermal storage.  Models were named based on liters of water volume; 1000, 1250, and 1500.
Effecta VP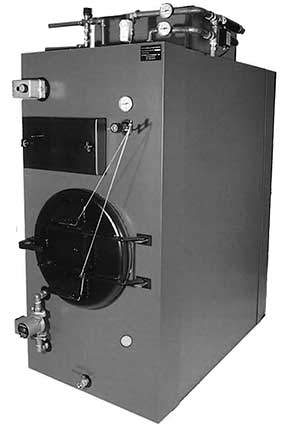 In 1988 Effecta introduced its first gasification wood boiler (gasifier).  Markets in Sweden began to demand more environmentally sensible wood boilers.  By the 1990s boilers such as the VP were out of fashion for many consumers.  The first gasifier was called "KP"  The boiler was a natural draft boiler, meaning there was neither a forced combustion air nor fan induced draft.  However, the boiler did fire downward through a ceramic afterburner.  Like the VP, the KP also included a large volume of water.  One other major change is that the KP was designed for 50 CM (approximately 20") wood like today's modern European wood boilers.  KP stands for Keramikpanna, or in English, ceramic wood log boiler.  Very soon after introducing the natural draft, wood gasification to their product line, Effecta added a forced combustion fan.
Effecta KP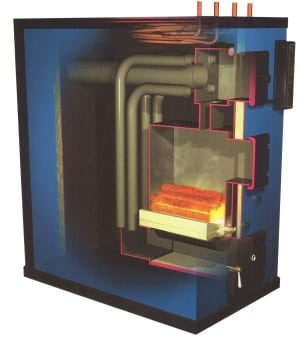 Bertil Ericsson died in 1991, but his wife Veronica continued to run the business and did so quite successfully.   It was around this time that Erik joined the company.  Erik had an interest in state of the art combustion technology.  With Erik's guidance, the Effecta KP further developed into the Effecta Ultima in 1996.  The Ultima boiler is the grandfather of today's Effecta wood boilers. The Ultima was the first Effecta designed specifically for firing into thermal storage.  It had very low emissions for its time, among the best available in Scandinavia.  While the forced combustion air fan was traded for induced draft, the ceramic afterburner remains very similar.  With an induced fan and other smaller updates made, the boiler model shifted name in to Woody, which as of 2018, is a model still sold in Sweden.
Effecta Ultima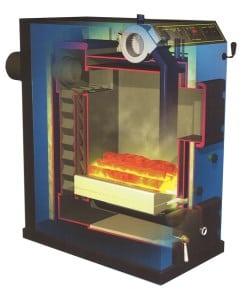 Effecta Woody V.1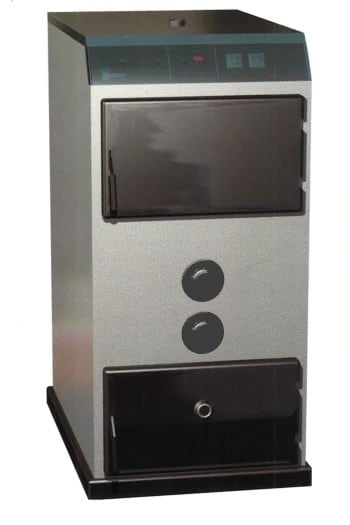 Meanwhile in 1995, Mrs. Ericsson sold the company to Erik and two other employees, Toni Palm (after-sales support) and Stefan Olsson (R&D and certification).   All remain with the company today.
In 1997 Effecta began producing wood pellet boilers.  Heating with pelletized wood held huge promise for renewable heating.  Wood pellets could be fed into a boiler automatically.  Automation meant that wood fuel could be used by a wider customer base.  For Effecta and the other wood pellet pioneers, this was a challenging period, as wood pellet fuel was a new concept.  Wood pellet quality was not stable and wood pellet boiler technology was still in the invention stage.   Despite early pains, the market for wood pellet boilers blossomed and soon wood pellet boiler sales overtook wood boiler sales.  The market has continued to shift for Effecta.  As of 2018, wood pellet boilers and wood boilers have about equal sales volume for Effecta.
In 2004, the Woody was upgraded with a lambda sensor made by Bosch.  The lambda sensor was an immediate success for combustion control and was a far more stabile technology than Effecta could have guessed.  Effecta then offered the boiler both with and without lambda control, as the Scandinavian market did not always trust in electronics on wood boilers.  Plus, lambda control was more expensive.  However, in 2012, emission and efficiency regulations in Europe made lambda control a necessity.  Today all Effecta wood boilers use lambda control for export markets.  However, the Effecta Woody without lambda is still available for the Swedish market.  Not only are Effecta boilers making renewable heat, but they are also making clean heat.
From 2005-2007 Effecta grew fivefold.  To sustain growth, Effecta took on external investors.  Effecta then had the opportunity to work heavily on new product development especially with the export market in mind.  Today Effecta exports to Norway, Denmark, Finland, Germany, UK, France, Belgium, Spain, Slovenia, Italy, Greece, Poland, and the USA.  All of Effecta's product line is currently listed to the toughest industry standards.  Many Effecta boilers also already meet tough,  2020 European standards.
Effecta in the United States: Effecta boilers first became available for sale in the US in 2011.  Brian Crawford of Up North Alternative Energy Solutions in East Jordan, MI was the importer.  Up North and Effecta exhibited together for the first time at Midwest Energy Fair in 2012.  Soon, Effecta wood and wood pellet boilers were found from Alaska to Maine with primary market penetration in Michigan and Wisconsin.  Up North sold about 100 Effecta boilers before its owner passed away in 2015.  In 2015 Effecta began selling pellet boilers through EcoHeat Solutions owned by George Whiting.  As of 2018, EcoHeat Solutions continues to carry Effecta wood pellet boilers.
In 2017, Tarm Biomass began carrying Effecta wood boilers as a high quality wood boiler line to replace HS-Tarm boilers.  In the US, Effecta Wood boilers are named "Smart" and come in 140,000 and 185,000 Btu/hr. sizes.  Smart boilers are EPA certified and safety tested and listed.  Tarm Biomass continues to support HS-Tarm wood boilers with spare parts obtained both from US suppliers and from HS-Tarm Denmark.
Effecta Smart